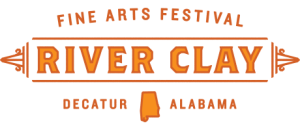 PRESS RELEASE – DECATUR, Ala. – The green space of Decatur's City Hall will be the setting for the River Clay Fine Arts Festival scheduled for September 26 and 27, 2015. This juried art festival will feature both local and national artists exhibiting original artwork for sale to the public.
Festival hours are Saturday from 9:00 am to 5:00 pm and Sunday from 10:00 am to 4:00 pm. Admission price is $3.00 per day or $5.00 for the weekend. Children under 12 are admitted free with an adult.
"The planning period for this event has been well over 2 years," said Mary H. Reed, one of the event organizers. "We had a wonderful response from professional artists from all over the country who were interested in showing their works at this event. We have selected some amazing exhibitors and have assembled what I feel to be a great line-up of diverse mediums and price points."
Approximately 58 artists will fill the City Hall lawn and will offer works on canvas and paper, sculpture, pottery, glass, found objects, jewelry, and much more. The event plans to bring numerous visitors to the Decatur area over the two-day period.
In addition to visiting with outstanding artists, arts patrons and friends, festival attendees will enjoy live art demonstrations, musical performances, and children's activities. The River Clay Fine Arts Festival will truly offer something for everyone.
Those who wish to preview the works offered by the selected artists – or those who just want to have a good time with great food and music – are invited to River Clay Rendezvous, an arts patrons preview party, which will be hosted on the festival site and at the Alabama Center for the Arts on Friday, September 25 from 5:00 pm to 9:00 pm. Ticket price for the Rendezvous is $50 per person which will include admission to the Art Festival for the entire weekend.
For a list of participating artists, information about the River Clay Fine Arts Festival, and to purchase tickets to the Rendezvous Preview Event, visit www.riverclay.org.